Turtle Nesting Season in Cape San Blas
When you're planning your next Cape San Blas vacation, you can see one of the most beautiful displays of nature on the Florida Gulf comes during turtle nesting season. Up and down the coast, including Cape San Blas, turtles come ashore to lay their eggs in early summer and you get the opportunity to see those eggs hatch all summer long and into the fall. It's an amazing sight to experience and one that is highly protected as well.
Because of predators, city lights, and human interaction, the baby turtle population is endangered, so if you want to see this natural phenomenon, make sure you're taking the proper precautions. Here is everything you need to know about turtle nesting season in Cape San Blas.
Cape San Blas Turtles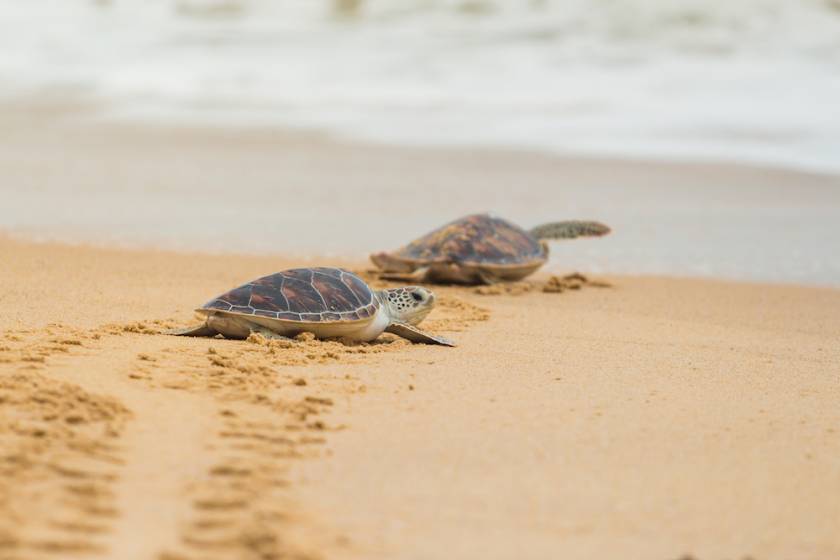 When you visit to see a turtle lay her eggs or try and catch them hatch, you'll be treated to the Loggerhead Sea Turtle. The Loggerhead is an endangered species and it's why the volunteers of the St. Joseph Peninsula Turtle Patrol spend every morning from May 1st to October 31st patrolling the 6 miles of beach. They are on the lookout for nesting and hatching activity to protect mother turtles and their offspring alike.
During nesting season, the patrol team is on the lookout for the crawl marks of the turtles coming in from the shore to lay their eggs and they measure the nest. There can be upwards of 200 nests and 8,000 hatchlings every season.
Turtle Safety
Patrols are done every day is to ensure that every hatchling has the chance to survive and make it back to the ocean. Hatchlings' instinct leads them toward the light of the moon when they hatch to guide them back to the ocean. Make sure you stay on the lookout for the crawl and the nests marked with yellow tape but never interfere with the nest itself.
To help in efforts of protecting this species and natural reproductive cycle, here are a few measures you can take to do your part:
Ensure that you clean up after yourself on the beach every day so that mother turtles can spot their nest.
Knock down sandcastles so hatchlings don't get stuck in any holes in the sand.
Use turtle safe flashlights on the beach at night. Cell phone flashlights can confuse the turtles so make sure you're using appropriate lighting to assist in the crawl back to the ocean.
Shield the lights in your vacation rental to make sure the hatchlings don't get confused.
2022 Nesting Season
The 2022 Sea Turtle nesting season on the Gulf Coast brought 590 sea turtle nests, with 14,686 hatchlings! Here is how that broke out by location:
St. Joseph Peninsula State Park: 201 loggerhead, 27 green (228 total nests)
St. Joseph Peninsula (south of SJPSP): 201 loggerhead, 8 green (209 total nests & 11,540 hatchlings)
Indian Pass: 51 loggerhead, 3 green (54 total nests and 3,146 hatchlings)
Eglin AFB, Cape San Blas: 37 loggerhead, 1 green (38 total nests)
St. Joe Beach/Mexico Beach: 55 loggerhead, 6 green (61 total nests)
We are so grateful for everyone's cooperation in protecting our beaches for these wonderful creatures, and keeping the skies dark during nesting season. This includes both locals and our loyal guests. We look forward to welcoming these Mama turtles back in 2023!
Come See This Beautiful Phenomenon and Book Your Cape San Blas Vacation Rental Today!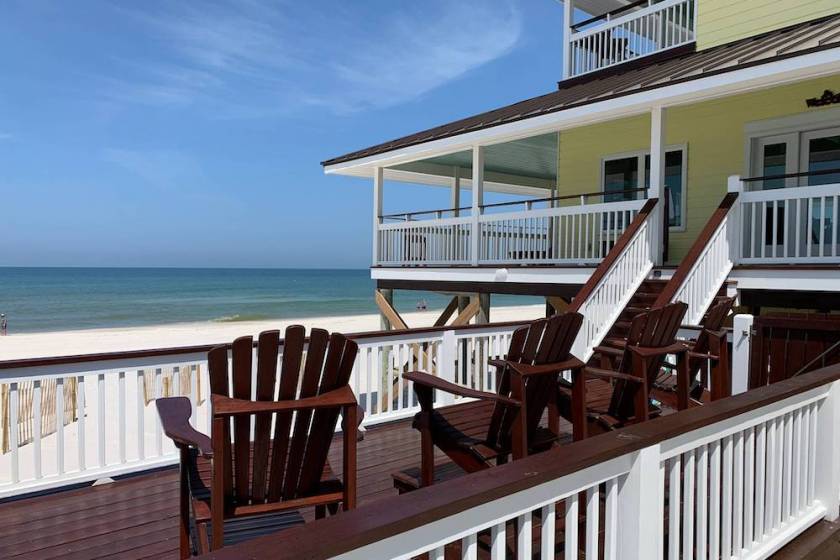 It's okay to admire the beauty of turtle nesting season and you can enjoy it safely here in Port St. Joe by securing your vacation rental. You can choose from  one of our Cape San Blas oceanfront homes, or one witha private pool, hot tub, or many other great amenities. Come see what makes the Gulf of Mexico nature's paradise and book your Cape San Blas vacation rental today!