Four Beautiful Homes for Your 4th of July Vacation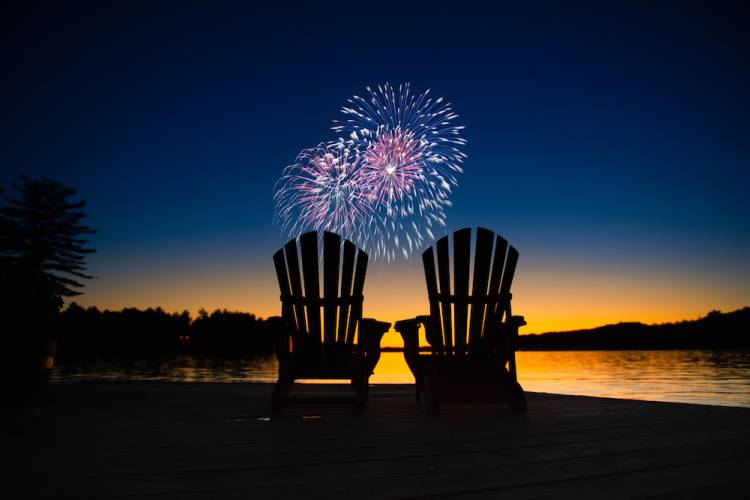 As the 4th of July approaches, Cape San Blas and surrounding areas come alive with summer activities. From sunny beach days spent splashing in the surf and relaxing to the sound of the waves to family barbecues and epic fireworks displays over the Gulf of Mexico, the area is full of events and festivities that light up this piece of Florida's Forgotten Coast. With families everywhere hurrying to book their 4th of July vacation rentals, Coastal Joe is highlighting four spectacular properties that are sure to provide the perfect home-away-from-home for your family or group. As you plan your getaway, imagine sipping coffee as the sun rises over the water from your beachfront deck, enjoying a family s'mores roast over your private fire pit, or relaxing on your screened-in porch as the sea breeze rolls in after a long, fun-filled day.
Beyond the comfort and luxury of these four vacation rentals, Cape San Blas and Indian Pass boast a variety of family and kid-friendly activities that will make your trip to the beach even more memorable. On July 2nd, venture to Port St. Joe for the 7th Annual Forgotten Coast Sea Turtle Festival, where you'll be met with food, music, a sea creature parade, and tons of opportunities to educate yourself on the importance of the ecosystem of our coastal lands. Then, on the 4th, get ready for a fireworks spectacular as Port St. Joe launches an epic display from Frank Pate Park starting at 10 pm. Fireworks can be seen from anywhere in downtown Port St. Joe, but the best vantage point will be from George Core Park, so bring a blanket and get there early to secure your spot. Whether you're a first-time visitor or a seasoned regular, Coastal Joe Vacation Rentals is the key to crafting a magical summer getaway. So, let's take a look inside these four dream homes as you picture yourself at the beach this 4th of July.
Footprints in the Sand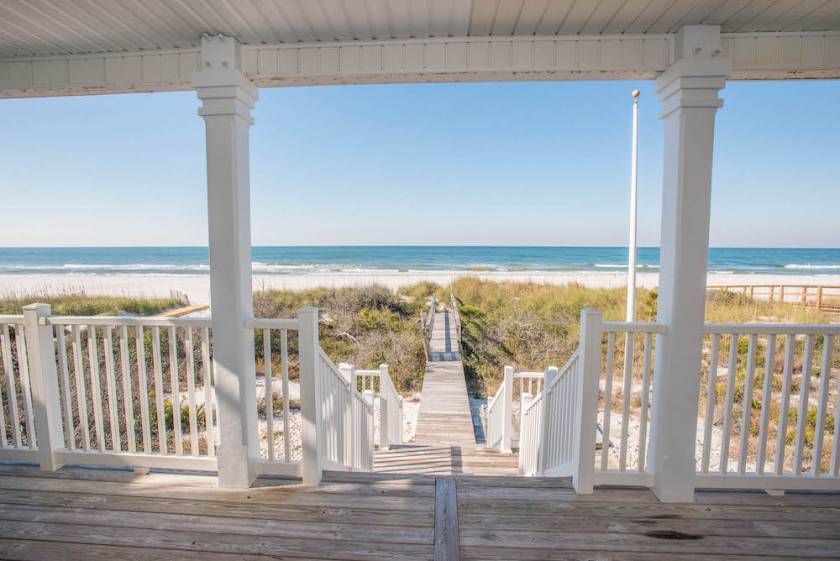 4 Bedrooms | 4 Bathrooms | Sleeps 12
Footprints in the Sand is an ideal vacation rental for families looking for a resort feel in a private home. The Gulf-front home boasts hardwood floors, custom interiors, a fully stocked chef's kitchen, and tons of natural light and gulf views. Each bedroom has a smart TV, and kids can enjoy their own private living room and hang-out space on the first floor while parents relax on the master bedroom's private deck, enjoying the swing and incredible Gulf of Mexico views. After a day at the beach, a short private walkway leads you back to the property, where you can rinse the sand and salt away in the outdoor showers (hot and cold) and then dive directly into the private pool! With free WiFi, enough parking for 5 cars, and top-notch amenities, Footprints in the Sand is a Cape San Blas jewel you wont want to miss.
Featured Amenities:
Provided tandem kayak, beach chairs, and wagon
Pet friendly
Private pool
Glo's Getaway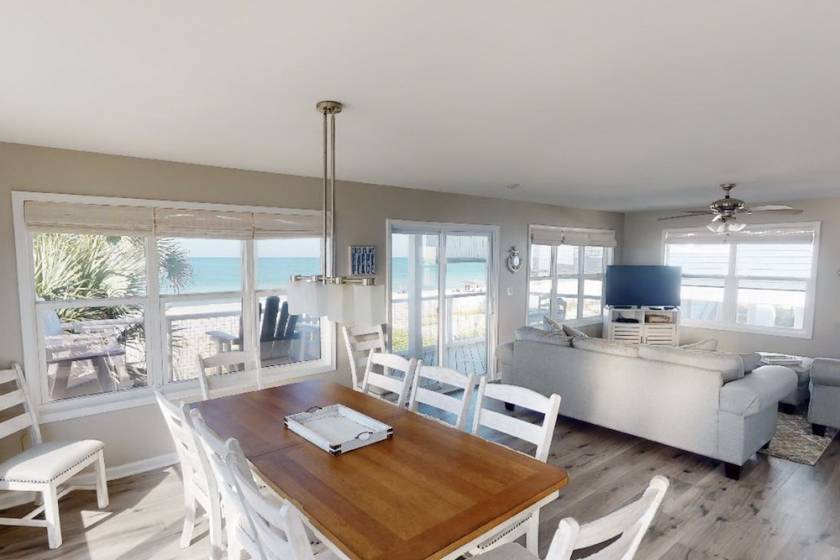 3 Bedrooms | 3 Bathrooms | Sleeps 12
Enjoy the sunset "Glo's" in this beautifully remodeled Cape San Blas home. Featuring two large, covered decks, gulf-facing bedrooms and living area, and a private boardwalk to the beach, it's hard to see why anyone would ever leave. When you arrive, you'll notice the ideal location of Glo's Getaway places you within walking distance to the Trading Post market, a fresh seafood shop, and Webster's Homemade Donuts giving you premium access to everything you may need while on vacation to Cape San Blas. The beautiful interiors, plush furniture, and gorgeous gulf views welcome you and invite you to relax while the salt air and sunshine recharge you. Take a virtual tour of this vacation rental, then go ahead and secure your 4th of July dream home at Coastal Joe!
Featured Amenities:
Pet friendly
Gulf front
Private beach access
Heaven's Walk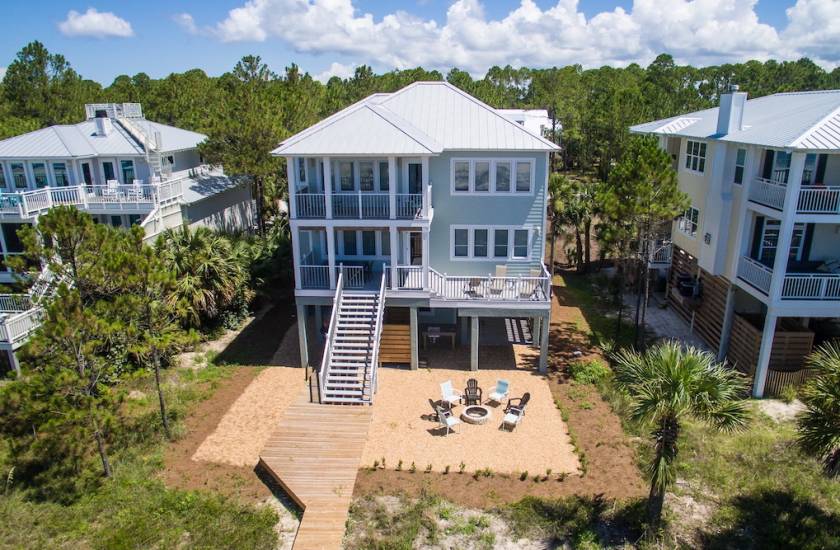 5 Bedrooms | 3.5 Bathrooms | Sleeps 12
This home, located in Indian Pass, really does have it all. From the sweeping gulf views available from nearly every vantage point in the home to incredible amenities, your 4th of July beach vacation will be one for the books when you book Heaven's Walk. Upon arrival, you'll fall in love with the stunning interior; from the designer furniture to the extra-long island in the fully equipped chef's kitchen, the owners have thought of everything. The spacious living area will be perfect for family game nights or movies on the large flat-screen TVs after a day in the sun. The walls of large windows will have you feeling like you've never left the beach as you enjoy dinner and watch the sun set over the water. The property features a brand-new boardwalk and a huge outdoor shower area, as well as a custom-built fire pit and new gas CharBroil outdoor grill perfect for nights under the stars. Additionally, you'll be within walking distance of the famous Indian Pass Rawbar where live music and delicious food await. With the 4th of July festivities, there's sure to be lots of excitement for the family to enjoy. This private beach community is ready to welcome you and your group to 30A this summer, so pack your bags, and we'll see you at Heaven's Walk this 4th of July!
Featured Amenities:
Elevator
2 dishwashers, 2 refrigerators
Child gates, crib, and highchair provided
Fish cleaning outdoor sink
Jubilee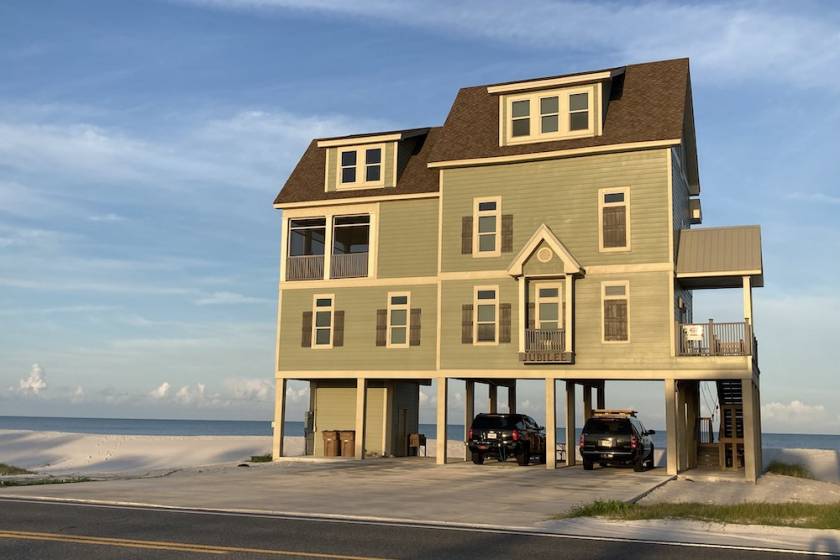 5 Bedrooms | 3.5 Bathrooms | Sleeps 10
This Cape San Blas home offers a $250 VayK credit toward reservations lasting 3 – 14 nights, making it a perfect choice for your 4th of July getaway! And if you're looking for a BEACH-front home, this is definitely the one for you, as you're quite literally only steps away from the sand. Additionaly, with this stunning property boasting water views from every bedroom, each guest will feel like a king during your stay. From the screened-in furnished porch, complete with TV and lounging sofa perfect for afternoon naps, to the master suite that takes up the entire third floor, the owners have created an oasis for guests to enjoy. The beautiful kitchen is accented nicely with sparkling white countertops and a marine-blue island. The large stainless refrigerator and top-of-the-line appliances will make preparing family dinners a dream, while the plush sofa and chairs are great for relaxing after a long day in the sun. With tons of room for kids to play and easy access to local businesses, you'll be filled with "jubilee" when you stay at this Coastal Joe vacation rental this 4th of July.
Featured Amenities:
Pet friendly
Stainless appliances
Screened-in sleeper porch
Book your Getaway to Cape San Blas
From beachfront dream homes with private pools to immaculate interiors that will have you fully rested and recharged at the end of your stay, you can't go wrong with one of these four Coastal Joe vacation rentals. Whether you're looking for a property close to nightlife, or a cozy private beach tucked away from traffic and noise, there's a perfect place waiting for you in Cape San Blas this 4th of July. As you begin to plan your trip, be sure to book direct and take advantage of these beautiful properties.